What Makes Click IT Better and Different?

1. We Maintain a Local Presence on a Main Street
As "Your Local IT Department, for convenience, we maintain a retail store on Main Street in Chagrin Falls. We are well-suited for small businesses because of the trustworthiness of our location and familiarity, and the fact that all your IT services can be supported by just one company. No longer do you have to depend on many companies for all these services a small business needs.
2. Our Unique Pricing Model Keeps Our Prices Down
As opposed to your typical MSP, Click IT prices its products, services, and solutions on a per-item, per-seat basis (see shop.clickitgroup.com). We then provide discounts to our customers depending on the number of services they subscribe to. For example, a standard managed IMAP email account retails at $6.95 per user per month. If the customer decides to pay annually, and also purchases our anti-virus or managed care, or a website, then they earn numerous discounts, such as a "Bundled Services" discount, an "Annual Payment" discount, and perhaps a "Key Customer" discount (provided is they fit our key customer profile found here). Customers, therefore, pay a lot less overall for all their IT services (10 to 50% less than typical) by also having one convenient tech company to depend on, with only one phone call to make for all any changes, issues or questions.
Below are specific answers to typical questions we're asked.
Answers to Some Basic Questions About Our Services:
What Can I Expect to Pay for Click IT's Outsourcing IT Services?
There are a variety of pricing models utilized by IT service providers, but the most common is typically the flat-rate, all-inclusive method of billing. IT companies that utilize this system usually charge anywhere from $120 to $175 per user, per month. At Click IT, our plans are designed in such a way that they are 10 to 50% below the national averages. Your total cost will depend on the number of services you end up purchasing from Click IT. The more services, the lower your overall costs.
How Much Will I Be Charged to Fix a Computer?
Computer repair companies typically charge between $50 to $75 per hour. Rates vary, and so do charging schemes. Some computer repair services are billed per service, but $50 to $75 USD per hour is average. At Click IT, we offer many repair services on a per-service basis, where the cost is fixed. We believe that this is the easiest for customers to digest since there are no surprises.
How Much Should I Expect to be Charge for Managed Services?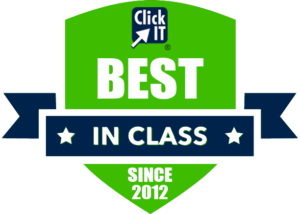 Nationally, the price range for managed IT service packages run from $99 per month to $250 per user, per month. At Click IT, our pricing scheme allows us to be 10 to 40% cheaper than the national average while also providing the best-in-class, exceptional services
What Can I Expect to Pay Hourly for an IT Consultant?
"The market rate" is the average price and range of pricing a typical customer will pay for this type of consulting service. If the average business consultant charges and receives $100 per hour, then the "market rate" is likely between $50 to $150 per hour. At Click IT we charge our customers a standard rate of $96, before any discounts. On-going, subscribed customers receive a 15% discount off our labor rates.